Revamping Manufacturing Using Cutting-Edge Mobility Solutions
---
The article aims to edify the reader on the essence of implementing mobility solutions for the manufacturing industry.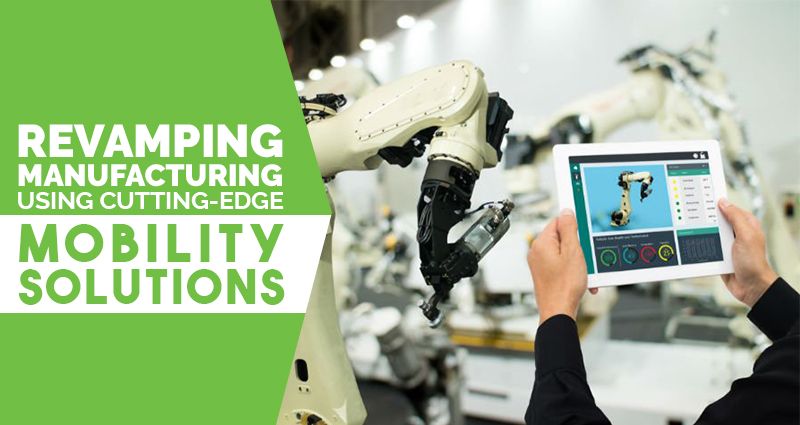 The thought of using a smartphone to complete the most complex tasks was almost unimaginable a few decades ago. Anytime and anywhere is the norm in the digital era; almost everything can be done using the internet powered smart devices giving people more flexibility in terms of operations. The fourth phase of the Industrial Revolution is all about automation and smart technologies to improve efficiency and reduce random error. This has already led to drastic transformations within sectors such as finance, banking, e-commerce, education, etc.
To keep pace with the general evolution within the society the manufacturing sector surely needs an upgrade. To have an edge in the market and beat the competition manufacturers must focus on improving efficiency in the production process and should be able to provide customized products in a short time-frame. Implementing cutting-edge mobility solutions can help them boost their overall operational efficiency. Let's dig a little deeper into some of the major advantages of adopting mobility solutions for manufacturing enterprises.
Portability and Real-time Updates
Mobile applications are built on the principle of 'anytime, anywhere usage'. The perfect mobile application can add value by reducing duplication of efforts when it comes to reviewing the checklist, receiving information and managing orders. Using the right mobile solutions workers can update information on a real-time basis and send out alerts in case of any discrepancies. Organisations will no longer have to review historical trends and make policies to anticipate and tackle new challenges. It will be done on a real-time basis by timely highlighting the pain points.
Productivity Boost
Progressive technologies are all about simplifying things and providing easy solutions to complex problems. New technology is not only easy to understand but also easy to use regularly. With deep internet penetration and improved affordability of smart devices, workers are already using modern technology regularly and are more accustomed to it. Providing warehouse workers with smart mobility solutions can help to do the task with ease and in-turn boost productivity.
Ease in Monitoring
Planning and monitoring are essential in achieving any objective successfully. For any plan to be successful it requires a lot of reviewing and making amendments as per the measured output. Mobility solutions can add a whole lot of value when it comes to logistics management for manufacturing enterprises. The GPS enabled devices can track the flow and movement of goods and identify the challenges in the routes and make suitable alterations to improve the process. Being able to check inventory, track order and input sales transactions on a real-time basis give an edge to the manufacturing enterprises to grow their business exponentially by increasing customer satisfaction.