Careers
Want to unleash your Limitless potential?
We invest in bright, creative and passionate individuals because we believe extraordinary organizations are created by extraordinary people. We value those who think outside the box. We nurture those who have an insatiable hunger to do more. We cherish those who have a clear vision for the future.
Our contributors often say they find their work stimulating and challenging in a deeply satisfying way. We believe it is because we provide them with an open platform for innovation where they can utilize not only their talent and skills but also their interests. A decentralized management system gives our managers the freedom to make decisions on their operations. This autonomy is the impetus behind many new innovations and improvements at Limitless.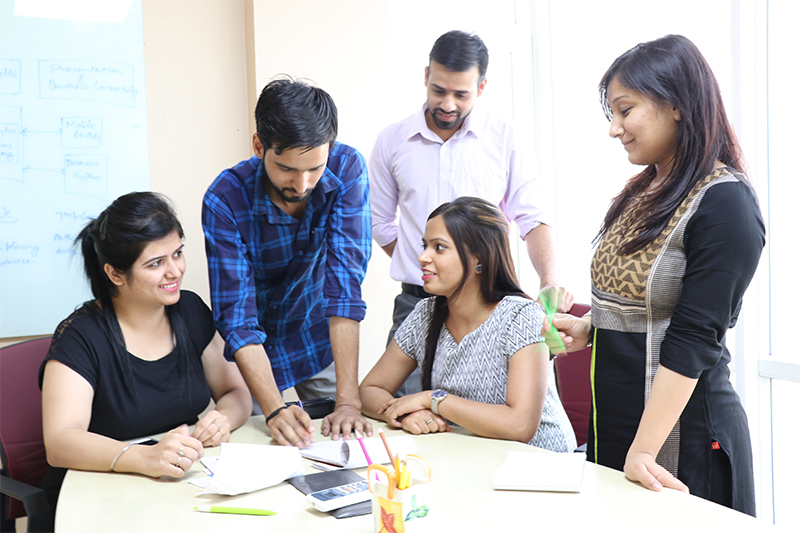 What is it like to work at Limitless?
What are you passionate about?
Innovation and experimentation are a part of our creative culture and we are always looking for amazing people to join our team. Take a look at our current openings and if you don't see the kind of opportunity you're hunting for, you can always reach out at contact@limitlessmobil.com to tell us more.
Get trained in Node.js and React.js from experts!
Golden opportunity for BE/B.Tech freshers: Limitless Mobility Solutions is providing Training Certification Course in Node.js and React.js for BE/B.Tech freshers. For more information on the course material and session timings, contact hr@limitlessmobil.com
Automation Tester – 20 Position(s) (Delhi/NCR)
In this role, minimum of 3-4 years of experience in software testing with 2-3 years of experience in developing automation scripts using Selenium Web Driver. Especially for Angular JS projects.
Experience in Performance and Load Testing using Automation tools.
Experience in developing Automation Frameworks from scratch.Experience using a Continuous Integration tool is preferred (preferably JENKINS)
Good knowledge of Web Services.
UI Developer (Angular) with 2+ years – 15-20 Position(s)
Delivering a complete front end application
Ensuring high performance on mobile and desktop
Writing tested, idiomatic, and documented JavaScript, HTML and CSS
Coordinating the workflow between the graphic designer, the HTML coder, and yourself
Cooperating with the back-end developer in the process of building the RESTful API
Communicating with external web services




Sr. Android Developer – 15-20 Position(s)(Delhi/NCR)
Should have good command on Kotlin/JAVA Programming language.
Strong knowledge of data structure.
Should have knowledge of MVVM and MVP design patterns.
Android Development (SDK), dagger, retrofit, LiveData.
Extensive use of I/O, Collections, Algorithms and well known application frameworks.
.NET Developer – 01 Position(s)
We are seeking a .NET developer responsible for building .NET applications using {ASP.net, C#, Javascript, SQL Server, Web Services, SSRS and MVC}. Your primary responsibility will be to design and develop these layers for our applications and to coordinate with the rest of the team working on different layers of the infrastructure. A commitment to collaborative problem-solving, sophisticated design and quality product is essential.
Embedded Engineer – 01 Position(s)
We are looking for a self-motivated, experienced embedded software engineer to execute complete embedded software development lifecycle. You will be responsible for prototyping initial hardware designs and code the firmware for the hardware to create scalable and optimized software systems. A background in robotics with hands-on experience of developing circuit boards with sensors and micro-controllers would prove to be handy.
Product Manager – 02 Position(s)
You will work with cross-functional teams to design, build and rollout products that consumers love. You will be responsible for the product planning and execution throughout the product lifecycle, including gathering and prioritizing product and customer requirements, defining the product vision, and working closely with engineering, sales, marketing and support to ensure revenue and customer satisfaction goals are met. IIMs preferred (2017 batch).
Project Manager – 03 Position(s)
We are looking for experienced project managers to manage the activities of key client projects. The ideal candidate will have a background in business skills, management, budgeting, and analysis, with excellent communication and interpersonal skills. You will lead project management plans with defined roadmap of project scope, assumptions, risks and overall project approach, including resource needs, timelines, client communications, etc.
Node.js Developer – 06 Position(s)
We are looking for a passionate Node.js Developer to integrate the user-facing elements developed by front-end developers with server side logic. The ideal candidate will be an enthusiastic developer with strong proficiency in JavaScript, eager to learn and grow his/her skills in the field. You will write reusable, testable, and efficient code for the design and implementation of low-latency, high-performance applications.
React.js Developer – 06 Position(s)
We are looking for a passionate React.js Developer to join our UI team. We launch new experiences fast, iterate often, and deliver a better UI experience. The ideal candidate will be an enthusiastic developer with at least 3 years of experience, eager to learn and grow his/her skills in the field. You'll have a direct impact on the user experience for our customers and end users.
UI/UX Designer – 02 Position(s)
As our UX/UI Designer, you will create well-structured user flows, wireframes and prototypes in coordination with product managers and developers. The ideal candidate will have mastery in UI design skills, proficiency in wire-framing tools and outstanding Adobe Illustrator, Photoshop and InDesign skills. If you have proven experience of 4 to 6 years along with a knack for quantitative and user behavior analysis, get in touch and over the long term you could be building and leading your own UI/UX team.
Web Designer – 02 Position(s)
We are on a lookout for a passionate and enthusiastic Web Designer with at least 1 year of experience to join our front-end team. You must understand the fundamental design principles behind a scalable application and possess excellent knowledge of Bootstrap, HTML5, CSS3, JQuery, WordPress and Zoomla. We need somebody to create pixel-perfect website designs in a mobile-first responsive UI environment. Extra points for working knowledge of AngularJS!
Graphic Designer – 02 Position(s)
For this position, creativity must be your middle name because you will be responsible for interpreting the client's needs and developing new design concepts, graphics, and layouts. You will work as a part of a team to create high-impact visual solutions across a variety of products like websites, banners, mobile layouts, magazines, product packaging, etc. Industry leading software and technologies like InDesign, Illustrator, Dreamweaver, Photoshop, etc., must be on your tips. Freshers with strong communication skills are welcome!.
PHP Developer – 02 Position(s)
We need a PHP Developer to write 'clean' and well-designed code to manage our backend services and the interchange of data between the server and the users. You will contribute in all phases of the development lifecycle and troubleshoot, test and maintain the core product software and databases to ensure strong optimization and functionality. Understanding of open source projects like Joomla, WordPress, Drupal, Wikis, etc., is a plus, as is your experience in common third-party APIs (Google, Facebook, etc.). Freshers welcome!
Video Maker – 01 Position(s)
In this role, the primary focus will be creating motion graphics for digital signs (85%) resizing video assets, creating cut downs, and assisting our post-production and production team as needed (15%). Create/design motion graphics for digital signs in our clubs. Resize video and motion assets. Create cut down version of video content for various channels. Assist post-production and production teams. Content archiving, media storage management.