How is Machine Learning Transforming the E-commerce Industry?
---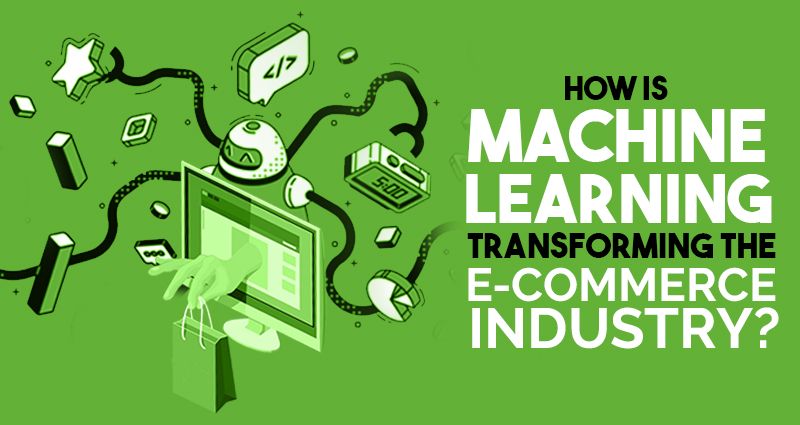 The internet has drastically transformed our world for better. With growing internet penetration and improved affordability of smartphones, the digital world has taken the front seat. It's hard to imagine a time where we couldn't find something we wanted on the internet. In the contemporary world, the brick and mortar stores have been replaced with virtual stores that can be accessed using an internet-powered device.
The e-commerce industry has changed the way we shop, from groceries to smartphones; everything that you want is a few clicks away. With the advent of AI and Machine Learning, e-commerce has further evolved with hyper-personalisation and data-powered marketing gimmicks. Let's delve deeper into how Machine Learning has transformed the e-commerce segment.
Hyper-personalisation & Targeting
In modern times, people are not just buying a product or a service but an experience. This is where personalisation comes into the picture to improve the consumer experience. The one-size-fits-all approach will no longer work in today's dynamic business world. With the Machine learning technology, the e-commerce players can target audience with specific interest and nudge them closer toward the purchase. It also helps with providing suitable product recommendation for an individual based on the data of their historical transactions.
Optimising Product Price
The Machine Learning technology leverages piles of data to understand customer behaviour. Pricing a product can be a complex task. To find the best price for a product you have to experiment with various price points to know what brings the highest revenue given the demand and supply at various price points. Machine learning technology can help with price optimisation by analysing various data points such as competitor price, demand etc. to set the most competitive price and win the sale. It is significant to optimise the pricing given the competition and availability of close substitutes.
Fraud Detection
When you are in the business of selling products online you need to be cautious of fraudulent transactions. Fraud detection at a large scale is nearly impossible to detect with human intervention and requires smart machine learning solution. The increase in fraudulent transactions can not only hamper your store's reputation in the market but also lower your profitability to a great extent. Fraud transactions can lead to high Return to Origin (RTO) orders that will ultimately reduce your overall profitability.
Machine Learning Machine Learning Solutions Machine Learning technology Machine Learning Transforming