Advantages of Using End-to-End Digital Signage Solutions
---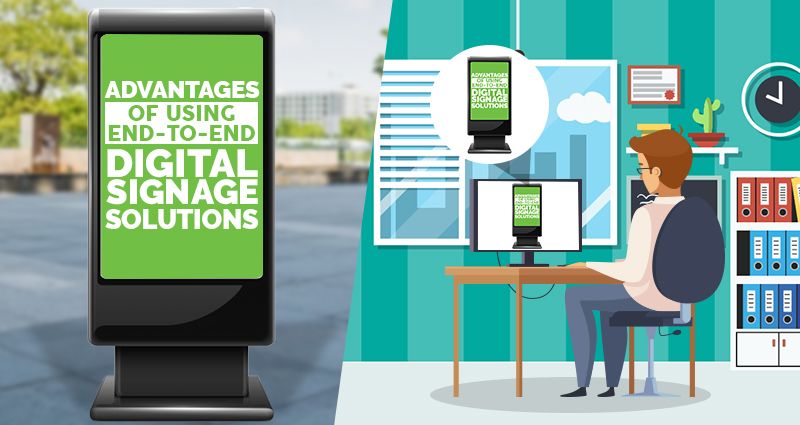 It is conclusively proven that dynamic digital signage solutions are the best alternatives to static flex signage but many technophobic users worry about operating these solutions. They need to understand that there's no need to know how the technology works, beyond a few broad and basic points like what purpose it serves. A user will be able to access the tool for operating the system in the form of an application on his/her computer and even on a mobile device like smartphone or tablet. This tool is known as content management system (CMS) and it is the hub of all activities surrounding digital signage use and performance.
Knowing the purpose of choosing digital LED displays
It's important for a user to know the exact purpose the digital signage is going to serve because that is related to how the CMS is configured for a specific application. In most cases, it is the out of home (OOH) media companies that own and operate large format display screens across several geographical locations. Managing such a pan-India network of static display screens is a nightmare as they are standalone and unconnected to each other. Hence, going for dynamic digital signage solutions is the logical approach for all users.
What a user expects from digital signage solutions
An OOH media company makes substantial investments in acquiring the display spaces in specific urban locations that are known to attract maximum attention. After installing LED screens in such locations, a user would like to:
Be able to seamlessly display multiple ads and videos of multiple clients through remote operation
Make minor or major changes to the ads and videos in real time and manage the operation remotely
Stay updated about each and every display screen in every corner of the network across the country
Get prompt and effective servicing support whenever required from the manufacturer/supplier
Servicing support is largely a hands-on function at the display site if it is about resolving hardware issues. However, the resolution of operational software or content management system (CMS) needs to happen remotely and in quick time.
A great CMS boosts the functionality of digital LED displays
Digital signage solutions from Limitless Mobility are based on deep research of the specific requirements in different customer segments as well as geographic locations among others. The CMS is a critical tool in the entire sequence of operations that makes digital LED displays such an advanced display solution. The sheer number of functionalities in the operation of a wide network of digital LED display screens is huge and the CMS integrates all these functions on a single platform. This takes large format OOH display screens' business to a different level altogether.
digital LED display screens digital LED displays Digital signage solutions OOH display screens