Vending Machines will be a Critical Part of the Retail Supply Chain in India
---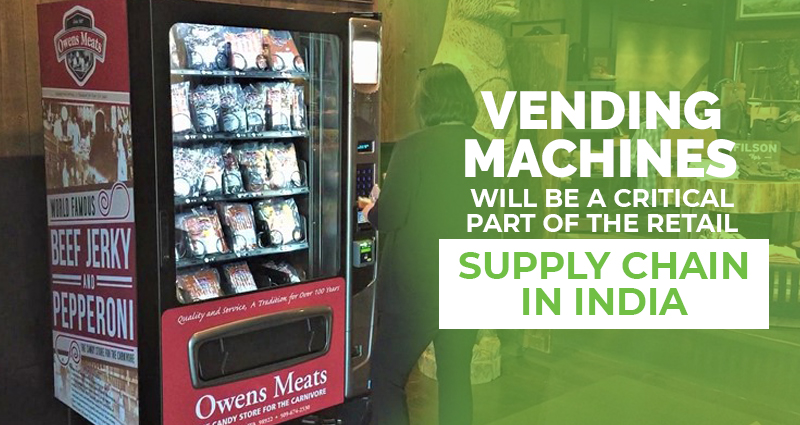 The scope of vending machines in India is enormous especially if we see the endless type and variety of packaged products that are found in the market. A market with a higher percentage of literate customers stand a better chance of adapting to the automation that vending machines offer. India has a literacy rate of over 80% currently and there is tremendous infrastructure building activity going on in the country right now with metro intra-city railways coming up in all major cities. Many of the metro stations already have multiple ticket vending machines although the breakdown rate is a little higher currently.
Smart vending solutions
Very soon metro stations are going to see the proliferation of vending machines dispensing food and other items of everyday use like pharma products, stationaries, magazines and newspapers and many others. Right now there are attendants at the vending machines dispensing metro railway tickets and that's understandable because these are early days for such machines in India. In many instances, the higher breakdown rate of the vending machines is due to faulty usage and therefore, the assistance of the attendants can help passengers use the machines more efficiently. This level of usage efficiency will help in better durability and usability of the machines.
Universal vending solutions
Apart from the metro stations, there are many other locations where vending machines will offer the convenience of buying eatables in seconds. The large number of malls coming up in most cities across the country are one of the best places for vending machines to be quite successful. People visit the malls in large numbers during weekends but they also visit them on weekdays. Vending machines quickly dispensing packed snacks and soft drinks can be very handy for customers in a large mall as there are no corner stores in malls to offer such instant packed food items in a hurry.
Vending machines for food products
The Indian food processing industry accounts for just 10% of the total volume of the country's farm output. The other reality is that around one-third of this farm output gets wasted due to poor post-harvest management. Vending machines will be a vital part of the solution to this problem when they will function seamlessly with other point of sale (POS) platforms like retail stores, corner stores and online stores among others. Fruit juices and other processed fruit products can surely benefit from more vending machines at new locations and transit points where they will induce more sales of fruit juices.
Limitless universal vending solutions
Limitless Mobility provides smart vending solutions for superior user experience in functionalities like smoother dispensing capability along with safe, secure and seamless payment processes. When a customer swipes his/her card or pays through a mobile wallet to purchase anything on a vending machine, the process should be completed smoothly. Such high performance requires a fair amount of telemetry and machine learning that needs to be integrated in the machine. Designing such solutions requires high levels of skill and experience that the team at Limitless is imbued with.
Limitless universal vending solutions Smart vending solutions Universal vending solutions Vending Machine