Reimagining India with Technology and Innovation
---
AIMA's Diamond Jubilee National Management Convention saw a plethora of eminent Government of India ministers, CEOs and thought leaders from various spheres share their vision for the future of India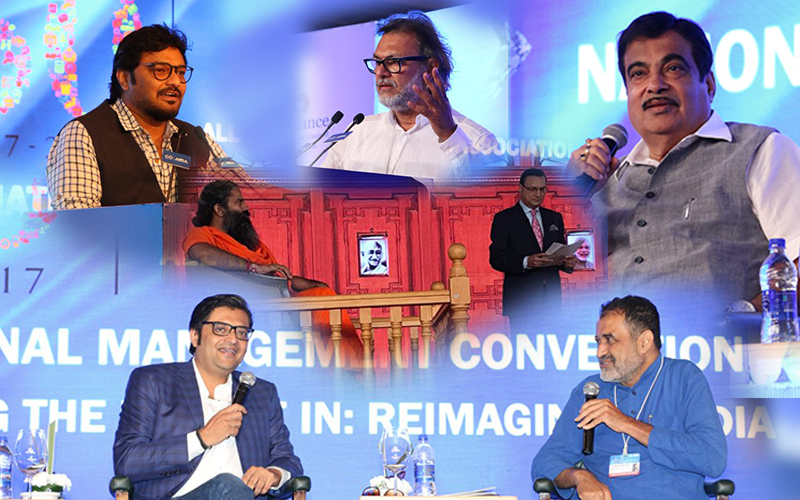 In a volatile digital world where rapid technological advancements are not only challenging but disrupting traditional systems every day, how accurate could a future that is extrapolated from the present be? Can a nation, or even an organization, continue to be tethered to time-honored conventions? Is adapting to the innovations taking place across the world enough, or is it time to reimagine ourselves as pioneers and lead from the front?
These were some of the questions All India Management Association's Diamond Jubilee Year National Management Convention in New Delhi strived to answer, and Limitless Mobility Solutions was on hand for a constructive dialogue on the way forward for the Indian economy.
NITI Aayog Vice Chairman Rajiv Kumar asserted he's positive that the economic downturn of the last two years has bottomed out, and India Inc. can expect higher growth levels in the next two quarters. "But for that, the Indian industry must embrace cutting-edge technologies. Organizations must aim to compete on the global stage, not just within the country," he stressed to a gathering of more than 850 industrialists, entrepreneurs, management professionals, and students. "On our part, we are doing that by infusing greater dynamism in policy-making and implementation. We are working hard to increase our outreach and getting ideas from all stakeholders."
Amitabh Kant, CEO, NITI Aayog, exhorted bridging the gender gap to put the nation on a fast-track to progress, pointing that women in India were contributing a mere 17% to the national GDP, while the global average stands at 37%. "We also must make Indian states more competitive," he said. "India is set to witness mass urbanization at an unprecedented scale, and our cities are simply not prepared for it. The young minds of the nation must develop solutions for cleaner air, renewable energy, etc."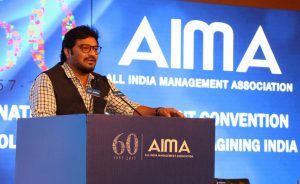 The government is already displaying a lot of courage by making tough decisions like the closure of sick central public sector enterprises, explained Babul Supriyo, Minister of State for Heavy Industries and Public Enterprises. "It's not easy to change the old order. But given the global competition, it is the need of the hour," he said, mentioning how global competition was forcing industries to come up with ways to manufacture the same product at one-tenth of the cost.
However, changing things for good cannot take place in the absence of fast decision-making, Minister of Road Transport & Highways, Nitin Gadkari reminded the attendees. "If there is a will there is a way. If there is no will, there are committees, discussions, and meetings," he remarked, describing how 55 flyovers in Mumbai were completed before project deadline on the wings of swift decisions.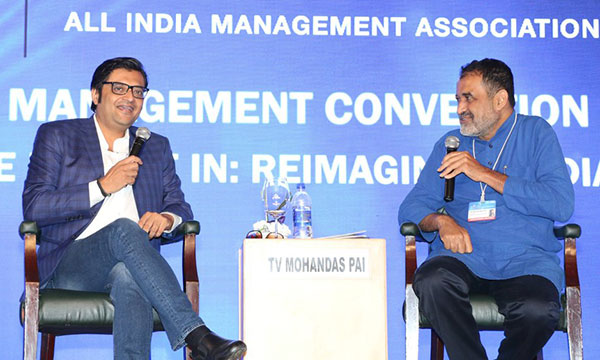 As the conversation turned toward the state of Indian media, Arnab Goswami, Founder & Editor-in-Chief, Republic TV, highlighted the importance of decentralization of media and bringing the common man into the narrative. "Isn't it surprising that in a corruption-laden country, Lutyen's Media couldn't break even one major scam in 63 years?" he asked, emphasizing that journalism can never be neutral; it is a constant fight between the right and the wrong. The journalist also outlined his vision to make India a digital media powerhouse by 2020, competing with the likes of BBC and CNN.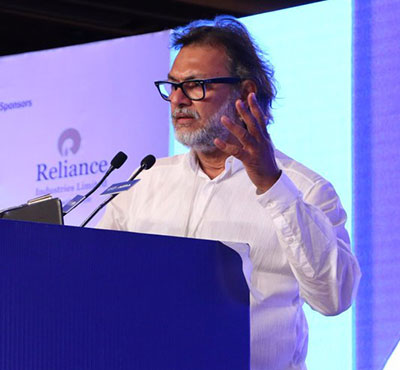 Film director, producer, and screenwriter Rakeysh Omprakash Mehra framed out the future of India in his address, insisting that content and quality will become the two governing pillars for our choices. "Till now, Indian cinema has been under water. Now, it's time for it to surface," he said. Drawing attention to the fact that only a handful of families had been running the Indian film industry till now, Mehra asserted that industries need to play a bigger role in cinema. "We cannot operate like a mom-and-pop store forever. We have the material to sell, but we need help building the shops to display it," he shrugged.
The highlight of the day came with Chairman and Editor-in-Chief of India TV, Rajat Sharma, interrogating yoga guru and Founder of The Patanjali Group of Institutions, Baba Ramdev, by putting him on the stand in AIMA Ki Adalat. Even as the playful banter enthralled the audience, Sharma posed some pointed questions to the yoga guru about his business acumen and vision for Patanjali. Baba Ramdev contended that his FMCG brand will beat Hindustan Unilever's turnover by next year, and become the world's top FMCG brand by 2020-21. The episode will be telecast on India TV on Sep 30, 2017, at 10 pm.