7 biggest enterprise mobility trends to incorporate in your business app
---
If you are about to get a custom business app designed, keep these biggest enterprise mobility trends in mind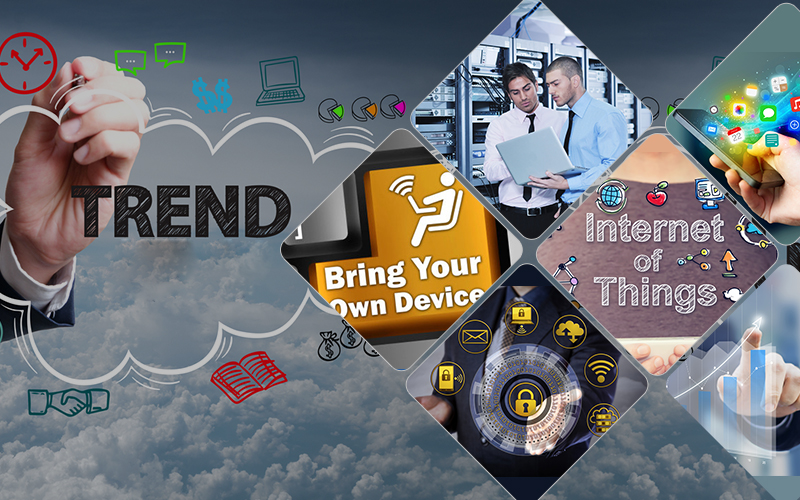 In a mobile-first world, businesses understand the instrumental role enterprise mobility plays in improving productivity and employee satisfaction. Couple that with decreasing hardware costs, accelerating penetration of smartphones and rising importance of managed mobility services, and you will understand why enterprise mobility tops the priority list of IT departments across the globe.
In fact, a report by MarketsandMarkets estimates the market size of enterprise mobility and BYOD (Bring Your Own Device) to grow from the current $35.10 billion to $73.30 billion by 2021. What's more, this year alone is expected to see the sale of three billion mobile devices. Of course, you can't let your competition ride the mobility wave and stay behind yourself!
To create a robust and dynamic mobility strategy with efficient enterprise mobility apps, you must know which emerging trends you need to harness. We are happy to help!
BYOD comes of age
Enterprise mobility and BYOD go hand in hand. Though we have been familiar with this concept for some time now, it is only lately that the trend has truly gained momentum. Businesses are witnessing considerable savings in costs and improvement in work efficiencies vis-à-vis the traditional desktop model. Organizations are able to make even more savings because they no longer need to support/rent/manage/buy corporate devices. BYOD also gives employees the freedom to work from home as and when required, resulting in a drop in the time taken to complete an assignment.
Rise of the Internet of Things
We all know how significant the Internet of Things (IoT) has been in ushering in an era of smart decision-making for enterprises. By managing and controlling Internet-connected devices in the fields of transportation, manufacturing, etc., businesses have been able to collect valuable data about their operations. Smartphones, with their inherent inbuilt sensors, are one of the most valuable IoT devices available to enterprises. The data collected through them will help businesses to get deep insights into their processes and shape their future strategies.
Application and device security
As the concentration of mobile devices and apps increases in enterprises, it is imperative for organizations to take all possible steps to ensure their safety and security. This is especially true for organizations that regularly deal with sensitive client or public data. Apart from making mobile device management software a vital part of the mobile strategy, enterprises will need to think hard about likely vulnerabilities that could arise from the operating systems, like the recent Ransomware attack that crippled the corporate world.
The power of 'where'
One of the biggest enterprise mobility trends right now is to add location awareness to a business app. From letting employees know when their flight is about to depart to tracking mobile sales teams and keeping a tab on orders and shipments, location-enabled apps have simplified workflows and enabled quicker decision-making for businesses. These apps can also be synced with other devices like a car dashboard to let an employee know if a business meeting needs to be postponed based on the estimated time of arrival.
Multiplatform companion apps
With employees using multiple devices to get the work done from different places, it becomes essential that enterprise apps are available across platforms to support different operating systems. This needs to be kept in mind from the beginning of converting a paper-based process to a mobile-based one.  At the same time, the mobility strategy needs to factor in companion apps – a version of a desktop application designed especially for the mobile devices. Businesses need to understand that mobile is only one of the numerous options available to them to build their applications on.
Performance comes first
Any employee using both an enterprise app and popular consumer apps would often complain how business apps took longer to load and were slower in their functionalities. Not anymore. Corporate apps now work behind the hood to keep updating their data and information even when the user is not actively using the application. The app will be connected to basic elements like the microphone and camera to enable a wide range of functionalities, and will also keep the power levels in mind. Naturally, these considerations for resources and code optimization need to be taken into account at the development stage.
IT vs. top management
Businesses are realizing that it is essential to clearly define if the enterprise mobility strategy will be led by the IT department or the top management. Distinctions need to be made between the different facets of the technology, as a result of which decision-making might change. For example, while the IT department might decide on the budget and the external service providers for the app, the top leadership will obviously have the last word on the key features, design and engagement channels of the app. As such, effective communication and collaboration between the two is all important.
The coming years will see all employees carrying their data on-the-go and working independently. An effective mobility strategy enables every stakeholder of the business in a much greater manner. It is crucial to bring onboard mobile application development experts while designing your enterprise strategy as well as the app.
Limitless Mobility is a market leader in developing custom mobile apps for businesses of all sizes and nature of work. Get in touch with our experts today to discover a solution that fulfills all your needs.