Scope of Utilizing Vending Machines at Indian Workplaces
---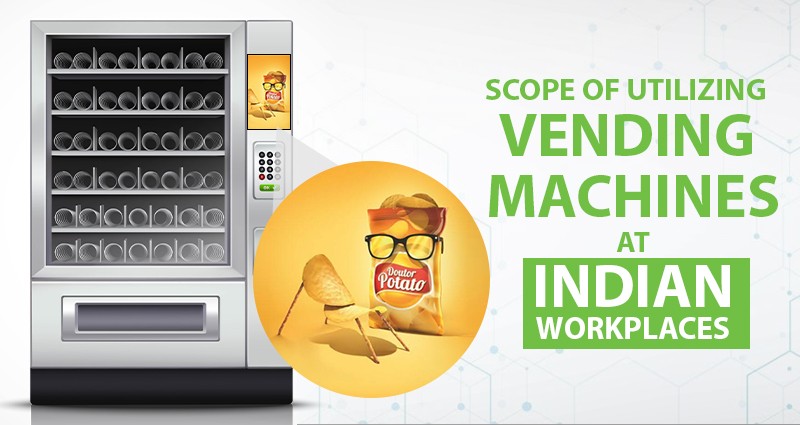 Most Indian workplaces are familiar with simple beverage vending machines that pour out hot drinks like tea, coffee and select soups, usually free of cost. That's a very elementary vending function which allows the office management to serve beverage to the staff without any human assistance. Not only does it save the office management some precious cash but it also saves precious time as the automated vending machine dispenses the beverage instantly. Times are changing fast and so is the Indian workplace where workers have to log more hours at the workstations, preventing them from strolling out for the occasional snack.
New age vending machines for Indian workplaces
Advanced vending machines that can do cash transactions in exchange for packed food items, have arrived in India but are still some time away from making any impression. For that to happen, the vending machines must ensure smooth and hassle-free transaction in quick time. Universal vending solutions from Limitless Mobility provide that kind of easy usability in vending machines. Office staff can now purchase their choice snack food by making cashless payments on the vending machines and be back at their workstations.
How vending machines can add to revenues
Limitless Mobility's universal vending solutions offer another major advantage to businesses operating the vending machines – running advertisements. A display screen equal to the size of a tablet is built into the vending machine alongside its virtual point of sale (VPOS) payment device. Every time a customer makes a purchase s/he comes in front of the VPOS and the tablet-sized screen displaying the advertisements. It is configured to compute the number of views corresponding to the number of times a payment is made.
Increasing the efficiency of vending machine operators
Every automated vending machine operator must have complete control of all the machines in his network and at the same time ensure all the machines function efficiently. This requires highly advanced systems that allows remote monitoring and management of the machines, seamless integration of telemetry, cashless payments, business analytics and of course managing the advertisements running on the display. Limitless Mobility is a research driven innovator of technology solutions and has developed a highly advanced software solution for multiple vending machine operations at scale.
automated vending machine Universal vending solutions Vending Machine