What is the future of IoT in Enterprise?
---
Internet of Things technology is the frontrunner for digital transformation, organizations across the world believe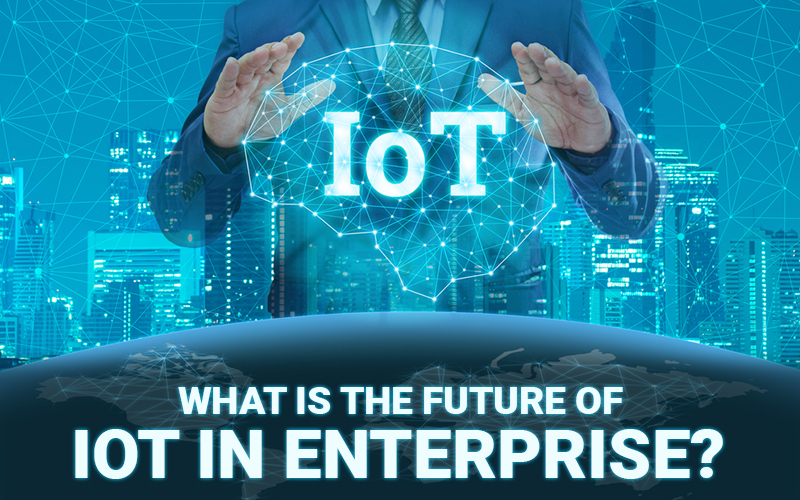 The Internet of Things (IoT) has proven to be a catalyst for innovation by serving as our eyes and ears around the world. IoT and its network of sensors act as enablers for other technology trends as well. Artificial intelligence, machine learning, augmented reality, all bank on IoT for providing them with accurate data which they need at their core.
Seeing this trend, Inmarsat, a British satellite telecommunications company decided to conduct a study to find out the impact of IoT on enterprise applications. Over 500 senior executives from sectors like agriculture, energy, transportation, and mining were quizzed to figure out how different organizations were using IoT differently and what challenges were they facing in that implementation.
Enterprise-wide deployment of IoT
Not surprisingly, respondents were unanimous in agreeing that, for them, IoT is the frontrunner for digital transformation. It was established that the technology was the topmost priority for 92% of organizations, with better service delivery, enhanced health and safety across the enterprise, and greater workforce productivity being the top benefits being derived from organization-wide IoT deployment. Some of the key applications where this technology has already proven to be significantly beneficial include:
Energy consumption monitoring
Smart monitoring of asset levels
Wide area controls such as vehicle management
Employee tracking through wearable devices
Business process automation
Monitoring product usage
Smart security management
Challenges and reservations
But as is the case with any new technology, the deployment of IoT is also witnessing its share of hiccups. According to the study, the major challenges that need to be overcome before IoT's full potential can be exploited include data security, lack of skilled manpower and unstable connectivity.
Since a majority of organizations (47%) do not meet the security requirements a new-age technology like IoT mandates, they will need to make substantial financial investments to ensure that the privacy of people is not breached. Also, since the technology itself is new, recruiters are facing difficulties pinning down on human resources who have the skill-set needed for successful IoT implementation. Some 45% organizations would like to see more IoT-skilled manpower working with them. And one-third of those surveyed believe that connectivity issues could pose a major hindrance for their IoT plans.
According to Paul Gudonis, President, Inmarsat Enterprise, "Developing new technology is complex and draws on many different types of skills. Reliable network infrastructure providers, that can operate anywhere in the world, need to work closely with end-user businesses to make sure they understand their operational needs." Therefore, collaboration will prove to be key for successful IoT implementation.
Is your organization using IoT in some manner? Does it plan to in the near future? Let us know in comments below!
ArtificialIntelligence DigitalTransformation InternetofThings IoT machinelearning