Common Challenges Faced With IoT Implementation and How to Overcome Them
---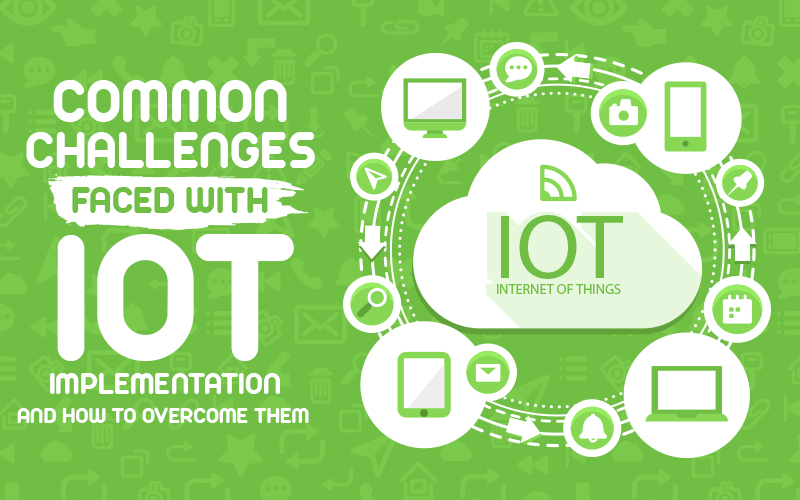 The Internet of Things (IoT) is a technology that has the power to transform businesses. With billions of physical devices around the world getting connected to the Internet, IoT has facilitated automation and remote access to machines like never before. Not only has this automation and remote monitoring increased transparency in operations, businesses are also saving big on time and money.
And yet, with its many advantages, there are some organizations that hesitate to adopt IoT. This is because there are still some challenges which businesses need to consider and address before they can hope to implement IoT successfully.
Data Security
Concerns about data and device security are one of the key barriers because of which businesses are shying away from widespread IoT adoption. Hacking of devices could easily become a security nightmare for any organization. But it doesn't have to be. Simply put in place a multi-layer data protection and monitor all security features as meticulously as you monitor your machines.
Legacy Systems
Many organizations still have legacy devices and machines in place which do not have any sensors. There is a possibility that these centralized systems may prove to be a bottleneck in successful implementation. But, all it really takes is some planning to overcome this hurdle. Peer-to-peer communication technology and decentralized IoT networks can help the business to turn this problem into an opportunity.
Implementation Expenditure
When it comes to investing in any new technology, the C-suite demands solid proof points regarding the return on investment. Also, if the leadership on top is not well-versed with new-age technologies like the Internet of Things, they may not be as enthused for IoT adaptation as the junior- or mid-level employees. To overcome this challenge, the C-suite needs to be provided with real-world examples of IoT's benefits in a language that they understand.
Technology Selection
"Should I go for a star-based or mesh-based IoT networks?" "What should be the standards for handling unstructured data?" "What are my different choices?" A business could be faced with a number of confounding scenarios while contemplating IoT implementation. Here, it is important to remember that investment should only be done in technologies that support a bi-directional communication channel, and that open standard must be adopted to ensure interoperability.
A technology partner like Limitless Mobility Solutions can help a business overcome these dilemmas by apprising them with all available options in an easy-to-understand manner. If your business is also looking for IoT solutions or IoT device management services, contact us here.