These 4 Players Will Make or Break IoT at Your Organization
---
Do you know who are the key decision-makers who can make or break the adoption and implementation of the Internet of Things at your organization? This blog tells it as it is.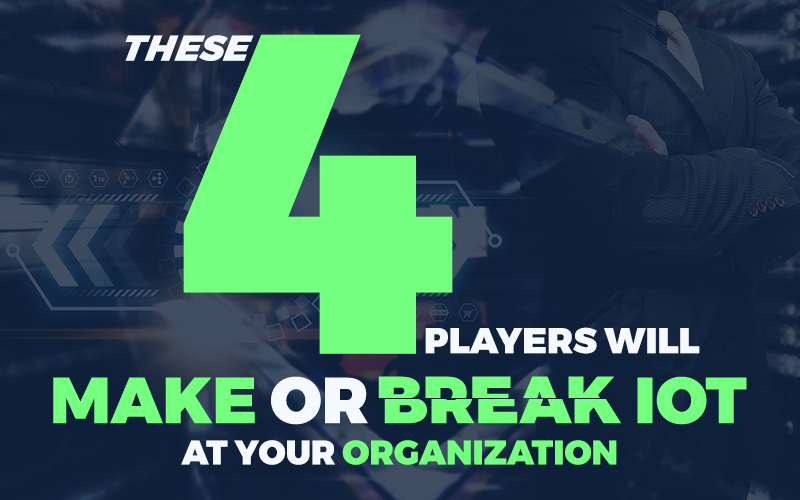 The Internet of Things (IoT) is a giant network of connected things, all of which collect and share data about the way they are used and the environment around them. All these devices and objects with built-in sensors are connected to a common platform, which integrates the data coming in from different devices, and applies analytics to share the most valuable information with applications built to address specific needs.
Unsurprisingly, IoT is transforming businesses by empowering smarter operations and becoming an essential technology for organizations to remain competitive. But the question remains: At each level of an organization, who is responsible for digging into this new world and defining how to implement and execute IoT? Well, here's a quick rundown on the common decision-makers who play an important role in devising a truly successful and practical IoT solution:
The initiative for any IoT project can come from a member of the C-suite. Such lead initiatives should always keep a pulse on the competition, market conditions, and changes in business models, apart from undertaking risk assessment and taking a stock of supporting technologies, among other things. At this stage, the person taking the lead will identify the aptest IoT vendor to collaborate with and execute the proof of concepts.
The product team and the CTO are the ones who truly understand the technologies of the existing products, the roadmap for the future, and the needs of the customers. This key group needs to be brought onboard to make sure that predefined goals can be achieved successfully with the help of IoT.
The technical team is the one that will actually execute the project. They need to work together with the chosen IoT vendor to mold the new technology into the existing ecosystem. As such, this group is a key decision-maker in the process of selecting a suitable IoT partner.
The end-user, naturally, needs to have a say in what type of solution is deployed and the experience it is expected to deliver. It is always helpful if the vendor understands the industry for which the solution is being built and shares experiences that have delighted end-users in the past.
So, these are some common decision-makers who a company must involve in identifying and executing new technologies like the Internet of Things. Do you think we missed out on a key group? Let us know in the comments below!