Must-Have Features for Digital Signage Software/ Choosing Your Digital Signage Software
---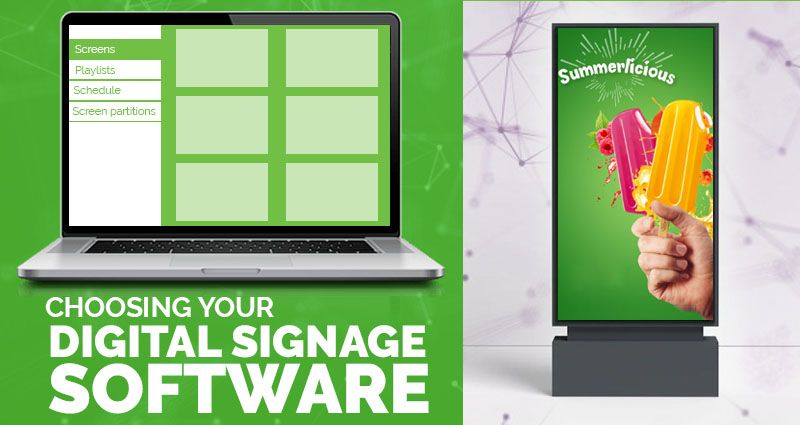 Digital signage solutions have proved to be a game-changer for advertisers. The scope and applications of this technology are growing by the day as more and more industries are adopting digital signage for their internal and external communication needs. While setting up a digital signage system it is paramount to review the backend of the solution, the digital signage content management software plays a crucial role in its functioning. Choosing the content management system for your digital signage can be very tricky, let's peep into some of the most essential features of the digital signage content management software.
Remote Content Management
This is one of the most essential features that your digital signage software should have. Managing content from anywhere is more like a norm today. Without this feature there is not much you can do with your digital signage, the modern digital signage software should have a remote content management system to help update real-time information from anywhere. The digital signage software that requires you to manually plug from your computer or the one that can only use your company intranet is not following the standard norms.
Remote Screen Monitoring
The evolution within the digital signage industry has made it possible to manage multiple screens at once. The person responsible for digital signage content management may not in vicinity to all the display signs being managed. This requires digital signage software to have remote screen monitoring systems in place for efficient content management.
API Integration
What good is a digital signage system if it doesn't provide you with the flexibility to display dynamic content as per the changing business requirement? Suppose that you want to display offers on your products using digital signage but you want to display specific offers for products that are still in stores. This requires integrating your digital signage content management software with your inventory system using API integration. If your business needs dynamic digital signage content then you should ensure that your software features API integration.
Multi-User Support
Many big businesses that deploy digital signage solutions have multiple individuals working on their digital signage strategy. These individuals might have a different level of access and authorizations. With the multi-support features, businesses can easily assign accounts to different individuals based on their authorization, this gives businesses the flexibility to manage accounts and keep control over the delegated operation.
Conclusion/ Synopsis
The article aims to edify the reader on some of the most essential features that modern digital signage software should offer. It also sheds light on the importance of these features and how they help the businesses in achieving their ultimate objective.