Digital Communication Tools That can be Tailored for Multiple Functions from a Single Platform
---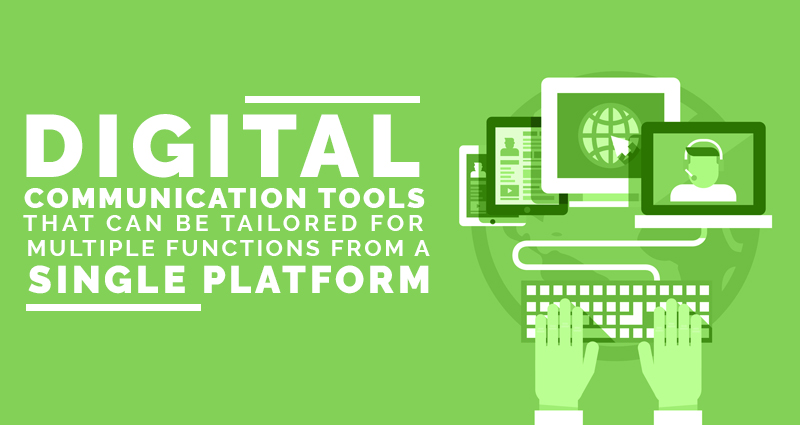 The information and communications functions have become highly diversified and specialized today and that makes it difficult for many business users to ascertain the optimum use of communication tools. In some enterprises, new communication tools are randomly installed to press forward with technology without ascertaining their utility. Businesses need to first analyze the use of communication tools in the workplace and then decide on the optimum mix of solutions. This requires a close look at the current systems of communication that are in place and why they aren't able to meet the requirements.
Communicating with the entire organization
Staying up-to-date with organizational news and updates is clearly one of the major challenges for most businesses with several verticals and divisions. It is in the interest of the organization to ensure that all employees are on the same page when it comes to matters of common interest. Generally, an emailer does the job well enough but what goes into sending out such an emailer is known only to those who send out the emails. The email is one of the many digital communication tools that an organization uses to reach out to its audience and if there is a disruption, the entire process gets stalled.
Enabling seamless e-commerce transactions
The e-commerce industry for instance needs a lot of coordination between the different segments of its audience – customers, vendors, dropshippers, customer care, logistics, accounts, and technology among others. When a customer chooses to return a product and asks for a refund, all these audience segments are impacted and they all need to be on the same page to seamlessly complete the return and refund. Unless all these audiences have access to the transaction details on their respective interfaces from a unified platform, it would be very difficult to achieve the necessary coordination.
Limitless Mobility offers communication tools in the workplace that are designed to integrate all such functions to achieve a single goal. The Limitless Communication Suite has been designed for the special requirements of organizations in the e-commerce, banking and finance, telecommunications, BPO and outsourcing, healthcare, hospitality, travel and tourism, and education industries.
Communication Tools Digital Communication Tools Limitless Communication Suite