Creating Limitless Memories with Christmas and New Year Celebrations
---
They say, Christmas is not a season, it's a feeling: a feeling of peace, love, joy and merriment. And this feeling couldn't be truer for the Limitless family when we celebrated Christmas and New Year this week.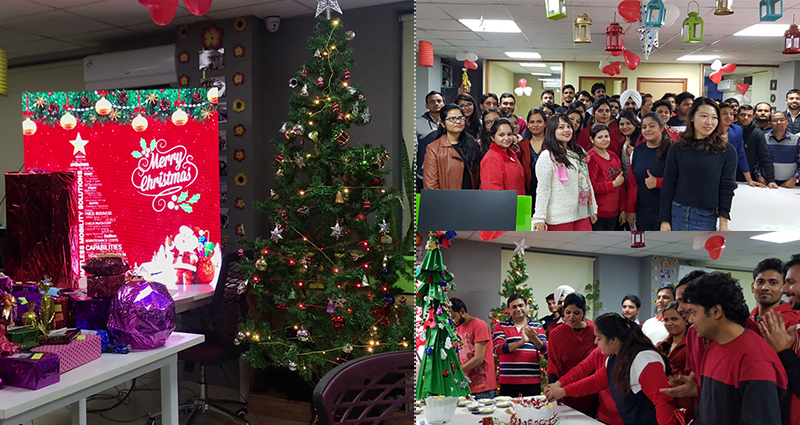 The day started with the traditional practice of decoration of the Christmas tree with trinkets and fairy lights, and the not-so-traditional but more fun practice of 'creating' a Christmas tree from craft material. The DIY activity gave birth to one-of-a-kind paper Christmas tree, which was decked up with a lot of pretty ornaments and charms, making the celebration all the more special for the entire office.
The highlight of the event, however, was Secret Santa. Almost a week before the day, team members participated in a lucky draw to pick out the name of a colleague who would receive a gift of choice from them. Now, Limitless is a big organization. And as is the case with big organizations, not all members are acquainted with each other. And yet, everybody took the initiative to buy gifts from their personal spend.
At the time of the gift exchange, a small clue was attached to each gift to help guess the name of the giver. As each team member walked up to receive their gift, a popular song representing their unique traits was played and the notes read out loud. Amidst reams of laughter, hooting, and thunderous applause, the gifts were exchanged and everlasting memories created.
The activity not only helped people from different departments become familiar with each other, it brought the entire organization together as one family. The following video sums up how Secret Santa became a clear reflection of team collaboration and bonding at Limitless:
Next came the cake-cutting ceremony. The fabulous cake showing multiple Santa faces instantly became the centerpiece of the revelries. We also didn't miss to celebrate the birthdays of our talented colleagues born in December with another finger-licking real fruit cake.
The day ended with everyone enjoying delicious refreshments, chatting, and enjoying a laugh together. As we look forward to the opportunities in 2019, we know we will all be up for a party or two in no time. As Oprah says, cheers to a new year and another chance for us to get it right!