Enterprise Mobility Management in India is Driving Remote Workflow Like never Before
---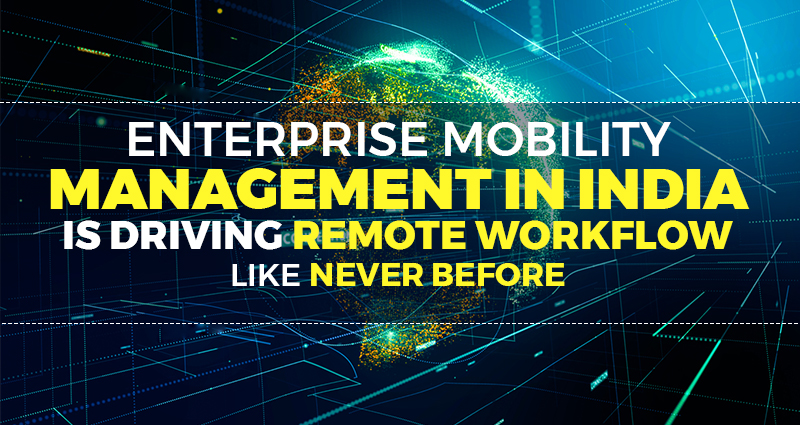 A large number of businesses across different industries in India are increasingly allowing many of their processes to be accessed on mobile devices from different locations. However, the security implications of such exposure of internal processes on mobile devices are enormous and require a high level of security to protect the data. Hence, you will require the services of companies that offer EMM or enterprise mobility management in India to take care of the security and other protocols. Businesses are increasingly providing access to their employees but also their channel partners in the supply chain, to specific parts of their processes.
Employees get seamless and secure access
In this situation providing secure access of the different processes to different stakeholders like employees and channel partners is an essential requirement. The businesses using enterprise mobility solutions (EMS) need to ensure that the mobile devices find it easy to access and use the enterprise application. A business offering logistics services has a large number of its employees operating out of the company's premises and across different geographic locations. Their services are a culmination of seamless networking among stakeholders, both employees and channel partners and will require secure access mechanisms at various points.
Perfect for content management systems
Similarly, enterprise mobility management in India covers content management too, wherein a large amount of data actually originates from the remote employees and outsourced vendors. Such content can be in the form of text, graphics, audio or video and requires its own set of programs to support vendor and employee autonomy. In such cases you normally get a content management system (CMS) to manage the flow of content between the enterprise and the remote stakeholders. The CMS is in fact, designed for facilitating remote operations which can be managed from a single console.
Continuously improving workflow management
The scope of enterprise mobility solutions is vast and increasingly relevant in today's work environment where mobile devices, be it the smart phone, the tablet or the laptop, are becoming the norm. Of course, all kinds of operations haven't quite gone remote but it is true that many businesses have a significant portion of their employees working remotely. It is EMM and EMS that are responsible for enabling this technological development. Today, with artificial intelligence and internet of things, workflow management will become even more precise as EMM and EMS develop further.
enterprise mobility management enterprise mobility solutions